XFortunes Review

XFortunes is a CFD broker that is witnessing sustained growth at the time of writing. The brand specializes in several asset classes, including cryptocurrencies, providing plenty of options for those eager to get started with trading.
According to the company itself, trading is embedded in its DNA, because the management team has a combined experience of 10+ in the industry. The vision behind the broker is simple and focuses on empowering any individual who wants to trade online. That's why we wanted to take a closer look at this broker, and see what it is capable of.
Crypto trading benefits
There are hundreds of different instruments currently available with XFortunes, which means plenty of options for you when building a solid portfolio. Speaking of the crypto coverage, traders are free to choose from a generous list of coins, including Bitcoin, Cardano, Ether, Solana, Avalanche, Binance Coin and others.

You can trade with leverage and floating spreads. Execution is accurate and fast because XFortunes offers proprietary trading software. The web platform is lightweight and carries a simple user interface. Even when trading crypto, it can handle elevated volatility.
While crypto trading benefits do take the spotlight, traders shouldn't ignore the fact that Xfortunes is a multi-asset broker. On top of crypto pairs, you have access to currencies, stocks, indices, commodities and ETFs.
Account types
Asset diversity plays an important role, but so does account diversity. With XFortunes, users have 6 options at their disposal (Basic, Bronze, Silver, Gold, Platinum and Elite), each with a pre-set list of features and a specific minimum deposit required.
It looks like the broker can cater to a diverse audience who might be interested to join its services, and we can find affordable accounts on the list like Basic and Bronze, alongside premium accounts such as Platinum and Elite.
The list of features includes useful resources like daily market reviews, support from an account manager, up to 70% welcome bonus, PRO webinars and analysis videos.
Education center
Because the crypto market is still relatively new compared to other established markets like currencies or stocks, people need to study it. They should learn about Bitcoin, blockchain, smart contracts and other features associated with the industry before testing the waters.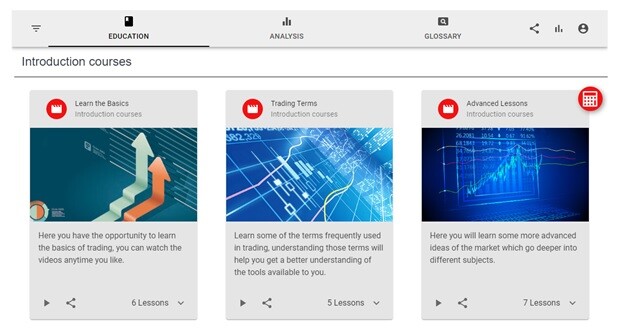 To provide a helping hand, XFortunes designed a comprehensive education center. Registered users have access to updated content on all the markets covered by the brand. You can learn new trading techniques, how to manage risk, fundamental analysis, and many other skills.
The resources provided there address traders of various levels of expertise. Beginners can learn the basic concepts of trading and gradually move toward more advanced topics. Expert traders are able to learn new things and improve their existing strategies too.
Bottom line
XFortunes offers interesting crypto trading features. The asset diversity, simple platform and variety of account types make the brand suited for a wide audience. On top of that, customers don't need to worry about security, since we're talking about financial derivatives. You don't need to hold a crypto wallet in order to take advantage of digital asset price movements with this brand. Overall, it is a good score from us.
XFortunes Review
Summary
Here you can go through our detailed XFortunes review and learn whether or not XFortunes is a legitimate or scam broker for online trading. Moreover, our x-fortunes.com review will also help you learn what you can expect from the XFortunes broker if you decide to sign up.