Tradeview Review
Online trading was always quite popular, but thanks to the explosion of cryptocurrencies and the COVID-19 pandemic, its popularity has climbed to new heights. With businesses and companies shutting down, people needed a way to earn and this is where online trading became the ultimate solution. With the influx of people in the market, the demand for impeccable trading services has gone up and if you are in search of the same, you can take a look at this Tradeview review to find them.
Tradeview was established back in 2004 and is a multi-asset broker that is well-known in the market for its superior trading conditions, a diverse range of products, and its customer-oriented approach. It offers its services in different parts of the world and caters to more than 100,000 clients. Anyone looking for a smooth and profitable trading experience should give it a shot because of its services. What will you find? This Tradeview review can tell you more.
Regulation and security
One of the best ways to determine that you are dealing with a professional and secure broker is by looking at its regulation. Unregulated platforms do exist and while not all of them are fraudulent, most of them do turn out to be scams or are involved in some kind of malpractice. There is no point in taking risks when you have perfectly decent and competent regulated brokerages. One of these is the Tradeview broker, which is regulated by the Malta Financial Services Authority (MFSA).
This means that the Tradeview broker is also compliant with the Markets in Financial Directive (MiFID II). Other than MFSA, it is also regulated in Mauritius by the Financial Services Authority (FSA) and the FSA in Labuan as well. Plus, it is also authorized by the Cayman Islands Monetary Authority (CIMA). In terms of security, you will have negative balance protection and all deposits you make will also be kept segregated from corporate funds. This ensures that there can be no misappropriation.
Range of assets
You do not just need a broker that has a good reputation in the market; you also need one that can offer you the assets you need to achieve your financial goals. Otherwise, there is no point in signing up with them. Fortunately, you will find that the Tradeview trading platform gives you access to a wide range of assets that belong to different markets, which allows everyone to enjoy plenty of opportunities that suit their risk appetite.
You will be able to trade forex currency pairs on the Tradeview trading platform and it also offers you CFDs on metals, indices, stocks, futures, energies, and even some of the popular cryptocurrencies. It also provides real stock, options, and futures and allows you exposure to the world's biggest stock market. This means that anyone signing up on the platform will be able to balance their trading portfolio.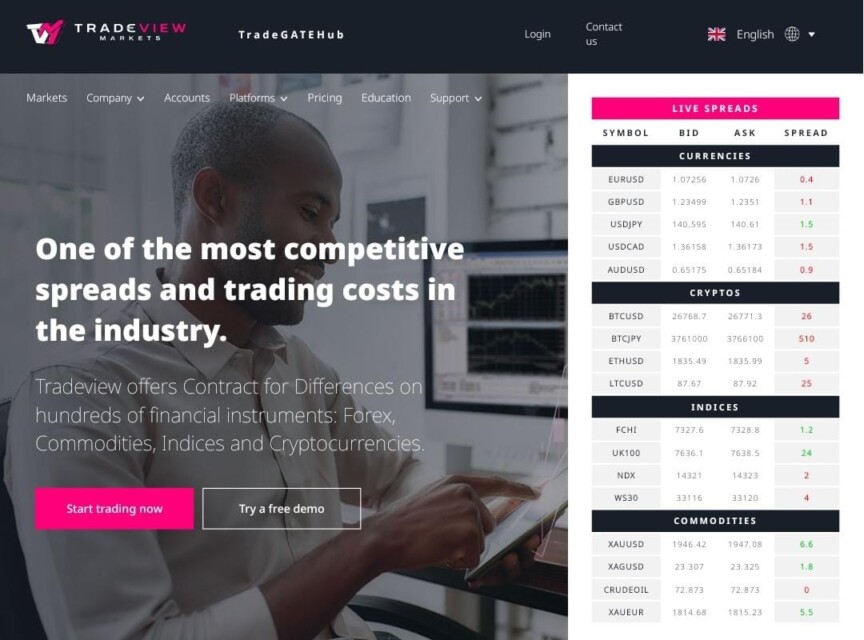 Trading platform
One of the most important things you need to look at when you are checking out a broker is the trading platform you will be using. This is because you will spend most of your time on it and it is used for trading execution, analysis, and decision-making. Obviously, you want a powerful and innovative solution and the Tradeview trading platform offerings are more than capable of delivering.
They offer you the full suite of the MetaTrader platform, which is known as the best and most sophisticated one in the market. To add to it, Tradeview has also added the cTrader, another well-known trading platform and there is also the Currenex platform. This gives traders the option of finding a platform they are comfortable with.
Customer support
You will be able to access 24/5 customer support when you opt for the Tradeview broker and it is available in multiple languages. You can get this assistance via email, international phone lines as well as live chat.
Is Tradeview a scam or genuine?
As it has a clean track record of more than 15 years, it can be safely said that there is no Tradeview scam and it is a genuine firm that can offer exceptional trading services.
The Verdict
It is apparent from this Tradeview review that the broker can be a suitable choice for anyone who wants to leverage the opportunities in the financial markets.
Tradeview Review
Summary
Here you can go through our detailed Tradeview review and learn whether or not Tradeview is a legitimate or scam broker for online trading. Moreover, our tradeview.eu review will also help you learn what you can expect from the Tradeview broker if you decide to sign up.