Trades Universal Review
When you are checking out different online brokers, it is highly likely that you are going to be impressed with a number of them. After all, they all seem to have well-designed websites and claim to offer exceptional trading services that can be very tempting. But, you need one broker for your trading needs and it has to be a dependable and professional one because you want to ensure the security of your investments. This means that you cannot believe everything you see because it can all be a false front. It happens more often than you think, as you can learn in this Trades Universal review.
The first time you come across the Trades Universal broker, you are going to be impressed because it seems to have it all. The website is quite decent and it is offering you a ton of trading instruments like currencies, stocks, options, funds, futures, and bonds that can be traded on a single platform. This sounds very appealing, but if it sounds too good, there could be something wrong. You will discover the same when you go through this Trades Universal review.
Regulation
Every trader wants their investment and their information to stay secure during online trading and the only way to minimize the potential of malpractice, scam, and fraud is to choose a regulated broker. There is a horde of platforms in the market, but not all are regulated. Scam and fraudulent platforms can be found in the unregulated category, so it is best to avoid them. Unfortunately, you will find that the Trades Universal broker also belongs to this category.
The first issue is that it claims to be owned and operated by Universal Scale Investment Ltd., but another company by the name of Everest Capital Ltd. is also mentioned on the platform. There is no explanation as to how the two companies are connected. The latter claims to be operating from the Marshall Islands, which is an offshore zone. Apart from that, you will find that Trades Universal is quite similar to another website tradeuniversal.com, which had been confirmed as a scam last year.
It appears to be a clone scam, which means similar fraudulent websites are created to fool people. Most importantly, the National Securities Market Commission (CNMV), which is the regulatory body of Spain, has blacklisted the Trades Universal broker because it is operating without obtaining a license in the country. Regulatory warnings should be taken seriously because the industry is known to be rampant with fraud.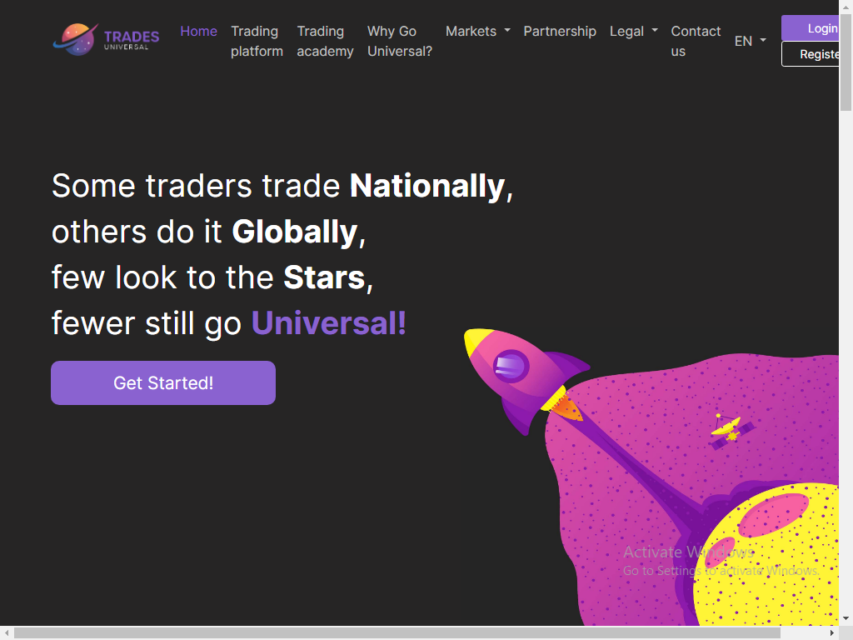 Trading platform
The Trades Universal trading platform should also be checked out before you open an account because you want an advanced and powerful trading solution. A genuine broker would certainly offer you one, but that does not seem to be the case here. While a trading platform is available, it is a web-based one that has nothing much to offer to the users.
As a matter of fact, you will find that the Trades Universal trading platform is subpar and nowhere close to industry standards. A legitimate broker will provide you with award-winning trading solutions like the MT4, or the MT5, but you are not going to find any of those here.
Trading conditions
Whether you can achieve your financial goals or not will depend heavily on the trading conditions that you are offered on the Trades Universal trading platform, so it is best to take a look at those as well. While the broker has a minimum deposit of $250, it is not honest about its payment methods. It has advertised a number of options but only supports card deposits for now.
Fortunately, these are eligible for chargebacks, so that is a relief. But, the spreads that are offered by the Trades Universal broker are downright disastrous because they start at 5.4 pips, which is more than five times the spreads offered by a competitive broker. This shows that the platform is fully intent on exploiting its clients and you cannot trade profitably.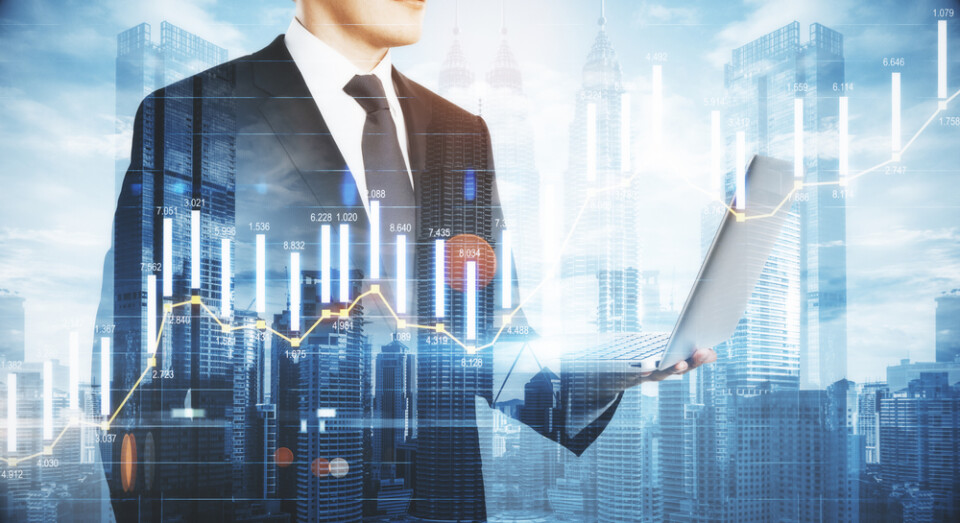 Is Trades Universal a scam or genuine?
The possibility of a Trades Universal scam is quite high because it is not a regulated broker. Plus, if it were genuine, it would not have such high spreads and such a poor trading platform.
Ending Thoughts
It is clear from this Trades Universal review that the broker is not worth your time and you should look for a different one altogether.
Trades Universal Review
Summary
Here you can go through our detailed Trades Universal review and learn whether or not Trades Universal is a legitimate or scam broker for online trading. Moreover, our tr-universal.com review will also help you learn what you can expect from the Trades Universal broker if you decide to sign up.