Mitrade Review
Your search for an online broker can become overwhelming very quickly because there are just too many options in the market. New platforms have also emerged and there are also those that have been operating since the beginning. Many people are unsure of whether to opt for newer ones or go with experienced brokers. While choosing established ones sounds reasonable, a lot of traders are concerned that the platforms might be outdated. You can clear some of your doubts with this Mitrade review.
Operating since 2011, Mitrade has its headquarters located in Melbourne, Australia, which means it has more than a decade of experience. The Forex and CFD platform also has offices located in 7 other countries, which means it is well-established. But, has it kept up with the market trends? You can find the answer after going through this Mitrade review.
Regulation and security
The experience of a broker, or lack of it, does not matter if they are not regulated. Dealing with licensed entities means that the risk of malpractice, fraud, and scam is reduced because they are monitored by a regulatory body. Thus, when you are looking for a broker, your goal should be to select a regulated and secure one. Taking a look at the regulation of the Mitrade broker shows that it is licensed by the regulatory authority in Australia.
Indeed, the Australian Securities and Investment Commission has authorized the Mitrade broker to provide its services. Apart from the ASIC, the Mitrade broker also has licenses from the Financial Services Commission (FSC) in Mauritius and the Cayman Islands Monetary Authority (CIMA). Due to its regulation, it offers negative balance protection to its clients, maintains segregated accounts and corporate funds are kept separate, and is also compliant with the top security policies in the market.
Most importantly, you will find that the Mitrade broker also offers risk management tools on its platform to its clients. The combination of these measures creates a secure and safe environment for trading, which can be reassuring for anyone signing up on the platform.
Range of assets
The financial markets are not lacking in assets and instruments that can be traded and newer ones have also been added over the years. You should check the assets offered by a broker before opening an account to confirm that they have the assets you wish to add to your portfolio. The range of assets on the Mitrade trading platform is extremely appealing because it comprises of over 400 financial products that belong to various market sectors.
You have the freedom of choosing forex currency pairs, or you can also find CFDs on stocks, shares, indices, and commodities. As a matter of fact, the Mitrade trading platform also offers crypto CFDs for trading, which is a great addition. It enables traders to create a fully diversified portfolio for balancing their risks and returns.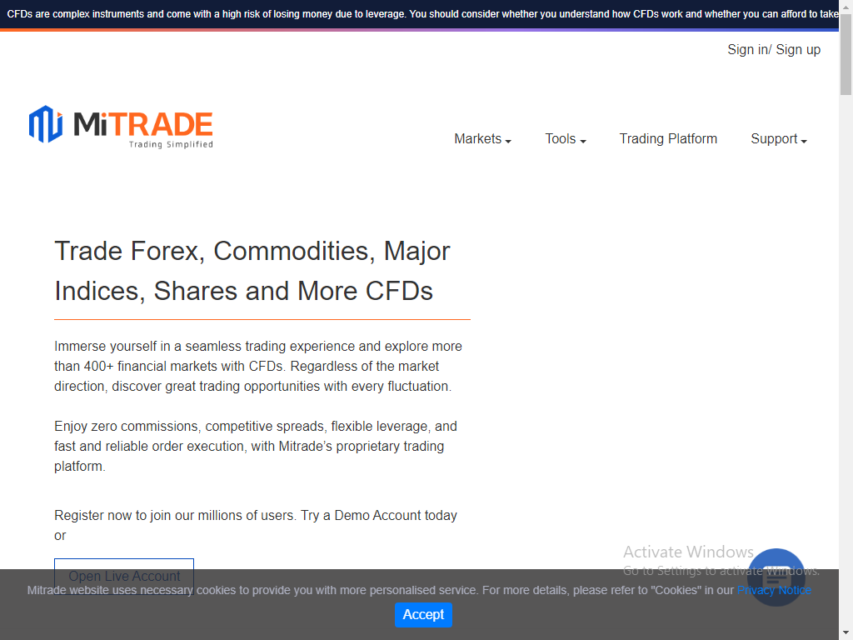 Trading platform
The next most important feature to check out is the trading platform because you want a sophisticated and advanced one and not an outdated platform. You will find that the Mitrade trading platform is the broker's own proprietary trading solution that you can access via desktop, web, or mobile. If you are worried about navigation, there is no need to be concerned because it has an easy-to-use interface and is very straightforward. You can access it from anywhere, which gives you a great deal of flexibility.
In addition, the Mitrade trading platform is not lacking in terms of features and tools. As mentioned earlier, there are risk management tools available, but this is not all. You will also be able to use drawing tools, price alerts, technical charts, copy trading features, split charts, and more.
Customer support
The Mitrade broker has not compromised in customer support either, which is offered 24/5 through phone, live chat and email. The customer support team comprises of experts who can assist you with technical and general issues proficiently.
Is Mitrade a scam or genuine?
The possibility of a Mitrade scam can be eliminated by the simple fact that it is a regulated broker and its transparent offerings indicate that it is completely genuine.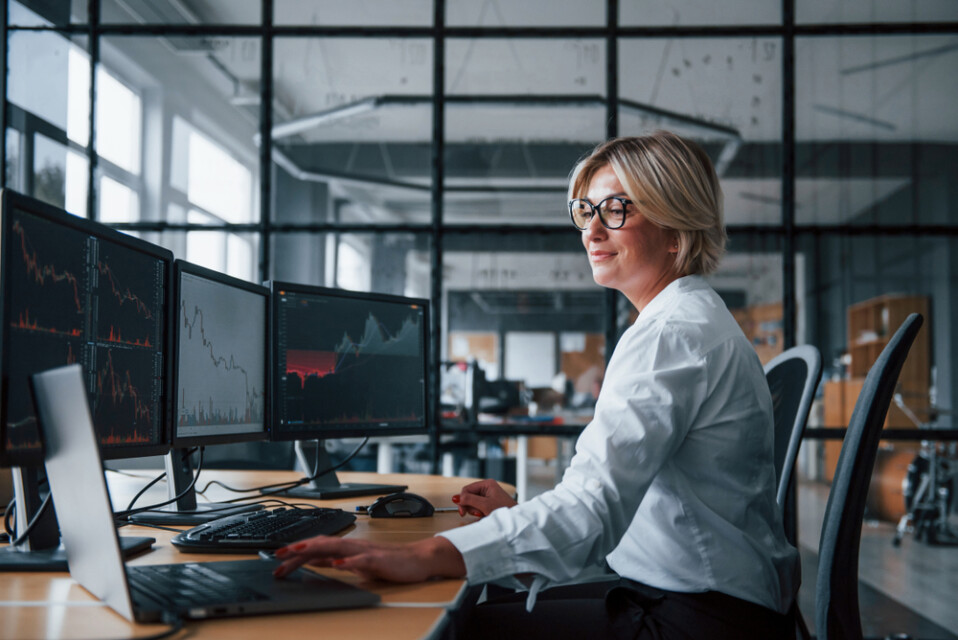 Ending Thoughts
This Mitrade review shows that the broker has put their experience to good use in order to provide a good trading experience to everyone who signs up on its platform.
Mitrade Review
Summary
Here you can go through our detailed Mitrade review and learn whether or not Mitrade is a legitimate or scam broker for online trading. Moreover, our mitrade.com review will also help you learn what you can expect from the Mitrade broker if you decide to sign up.